What are my responsibilities as an agricultural employer?
FAQs
|
For Agricultural Employers
Agricultural employers must comply with a variety of requirements for worker and handler training and safety. Even if supervisors interact directly with workers or handlers, employers are responsible for providing necessary information and ensuring proper use of pesticides, among other requirements.
Duties for all Employers
Safety Training
You must ensure workers and handlers have all required annual pesticide safety training before working in treated areas. Recent WPS changes require additional training topics for workers and handlers and there is no grace period before tasks begin. Detailed training requirements are provided in Chapters 3 and 4 of the How to Comply Manual (HTC). As an employer, you must maintain training records on-site for all workers and handlers for two years. All training materials must be EPA-approved. Trainers must be qualified, most often by holding a pesticide applicator's license or by completing an EPA-approved Train-the-Trainer course.
Establishment-Specific Information
Separate from the pesticide safety training, employers must tell workers and handlers where to find the pesticide safety poster (or equivalent), Safety Data Sheets, pesticide application records and decontamination supplies on the establishment.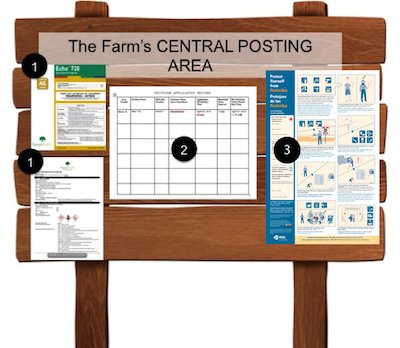 Central Posting
The central posting materials must be displayed in an easily accessible location during working hours. Usually this is a location where employees congregate such as where they check in or out of work, change clothes, eat, etc. The central posting information must include the following three main elements:
Hazard information – Safety Data Sheets
Pesticide application records

Product name, EPA registration number, and active ingredient(s)
Crop or site treated
Location and description of the treated area
Dates and times of pesticide applications, including when applications begin and end
Duration of the REI

Safety information – the WPS safety poster or other materials that have the required information, including:

Name, address, and telephone number of the nearest emergency medical facility
Contact information for the State or Tribal  pesticide regulatory agency
The SDSs and application records must be displayed within 24 hours of applications – and before workers enter the treated field. They must remain posted for 30 days after the REI expires.
In addition to the central posting area, the WPS safety poster must also be displayed:
At any permanent decontamination site, and
At any location where decontamination supplies are required in quantities for 11 or more workers.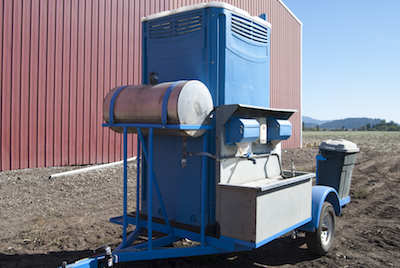 Decontamination
You must provide decontamination supplies within 1/4 mile of all workers and handlers, but out of treated areas and those under a REI. This includes clean water that is cool enough for eye flushing or washing skin, soap, and single use towels. At the beginning of each shift there must be one gallon of this water per worker and three gallons per handler. For additional decontamination requirements, see Chapters 3 and 4 of the HTC.
Emergency Assistance
In the event of a pesticide exposure, you must provide immediate transportation for workers and handlers to a medical facility capable of emergency medical care. You must provide the Safety Data Sheet, product name, EPA registration number, and active ingredient(s) to the exposed employee(s) and medical personnel. Also, provide a description of how the pesticide was used and any circumstances that could have resulted in exposure to the pesticide.
Retaliation and Age Requirements
Employers may not retaliate against a worker or handler who attempts to:
comply with the WPS,
file a complaint, or
provide information in an investigation of alleged WPS noncompliance.
Employers must ensure that early-entry workers and handlers are at least 18 years old.
---
Additional Duties for Employers of Workers
Posting Requirements
You are responsible for ensuring that workers and handlers stay out of treated areas during an REI. You may notify people verbally (no signs) when:
The label does not require signs to be posted, and
The REI is less than or equal to 4 hours for indoor applications, or
The REI is less than or equal to 48 hours for outdoor applications.
Otherwise, you are required to post warning signs at any reasonable "entrance" to the treated area before the application and for the duration of the REI. As long as the signs remain posted, unprotected workers may not enter the area. If early entry is necessary, learn about the additional requirements in Chapter 3 of the HTC.
During applications, you must keep workers out of the Application Exclusion Zone (AEZ) and the treated area. For some types of applications, workers may not enter enclosed space structures during a pesticide application and until the proper ventilation criteria are met.
---
Additional Duties for Employers of Handlers
If you employ handlers, it is your responsibility to ensure the following additional requirements are met:
Pesticide Safety
Inform handlers of entry restrictions and ensure those restrictions are followed.
Inform handlers of all required label and application information. Ensure this information is accessible during the application and that it is understood by the handler.
Provide training for safe use and maintenance of pesticide application equipment.
When handlers are mixing/loading pesticides that require eye protection, provide an eye-wash station at the mixing/loading site or an equivalent amount of water (6 gallons). Require applicators to carry one pint of water with them for emergency eye-flushing in the field.
When handlers are applying pesticides with a skull and crossbones symbol on the front panel, check-in with them at least every two hours.
For famigant or enclosed space applications, provide a second handler outside of the enclosed space to continually monitor the active handler. In addition, provide a second set of PPE in case there is a need to assist or rescue the handler making the application.
Supply any label-required PPE, ensure its proper use, and provide proper care and disposal/replacement. Inspect PPE before each day of use. For more details on PPE requirements, see Chapter 4 of the HTC.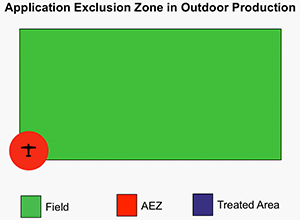 You must also ensure handlers do not allow pesticides to contact anyone other than trained handlers with required PPE during pesticide applications. Handlers must suspend pesticide applications when others enter the Application Exclusion Zone (AEZ). More details are provided in the AEZ guide.
Exemptions for Immediate Family Members of Establishment-Owners
If a majority of the establishment (more that 50% of the equity) is owned by one or more members of the same immediate family, then a smaller set of WPS requirements apply to all of the owners and their immediate family members. Immediate family is limited to the spouse, parents, stepparents, foster parents, father-in-law, mother-in-law, children, stepchildren, foster children, sons-in-law, daughters-in-law, grandparents, grandchildren, brothers, sisters, brothers-in-law, sisters-in-law, aunts, uncles, nieces, nephews, and first cousins. "First cousin" means the child of a parent's sibling (i.e., the child of an aunt or uncle).
Learn more about Immediate Family Exemptions.
---
Learn more:
Checklist for Agricultural Employers
Is WPS training needed? What employers need to know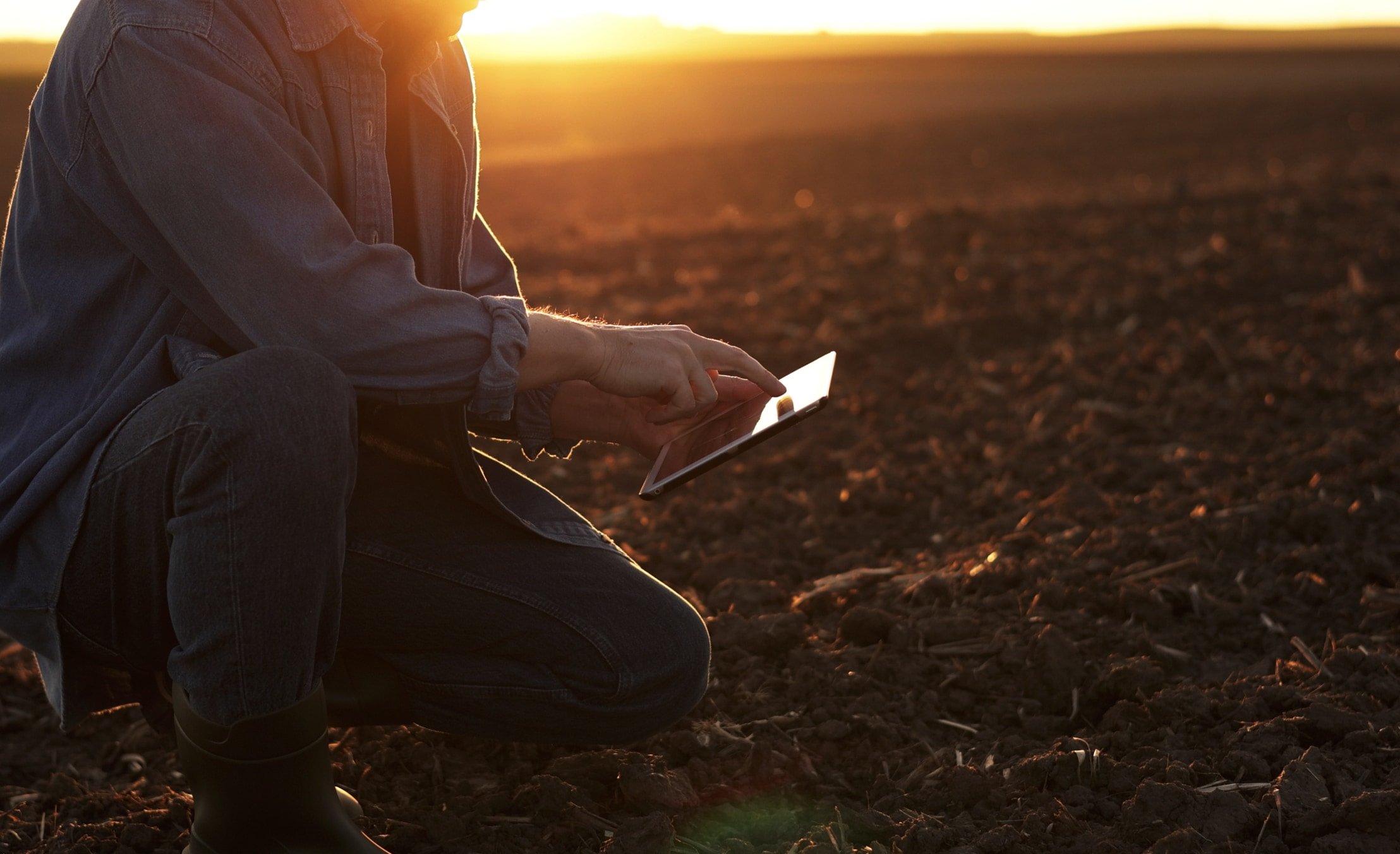 Regulatory Guidance
Browse brief guides about protections for workers and handlers, the AEZ, posting, PPE, exemptions, training, respirators, and more, in English and Spanish.