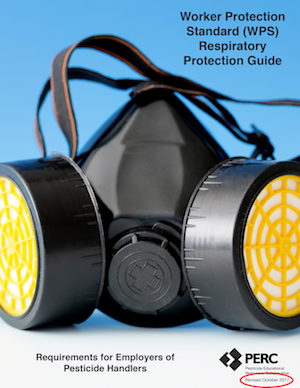 Under the Worker Protection Standard (WPS) as revised in 2015, there are new requirements for pesticide handlers when pesticide labels require the use of a respirator.
Before pesticide handlers can use a respirator, they must receive:
A medical evaluation by a physician or other licensed health care professional,
Fit-testing with a taste/smell/irritating indicator, or with quantitative measurements, and
Training about the use, care, and maintenance of the respirator.
This new guide from PERC includes:
Guidance on selecting respirators based on new/old label language
Medical evaluation options
Step-by-step respirator fit-testing procedures
Respirator cleaning/maintenance guidance
Frequently-asked questions such as, "Can I perform my own fit-test?" and "Are web-based medical evaluations allowed?"
Purchase printed copies of the guide here: npsecstore.com
If you would like to print the guide yourself, click here for a high quality version.
This version was revised in October 2017. Click here for a summary of changes.
Many thanks to the development team!
Primary Authors:
Kathleen Kincade, MSPH, Oregon Occupational Safety & Health Administration
Garnet Cooke, Oregon Occupational Safety & Health Administration
Kaci Buhl, Oregon State University
Editor:
Janet Fults, Consultant
Manual Production/Layout:
Cameron Hughes, Oregon State University
Sean Ross, Oregon State University
PERC Advisory Board Content Reviewers:
Betsy Buffington, Iowa State University
Dean Herzfeld, University of Minnesota
Juan Concha, the Farmworker Association of Florida
U.S. EPA Content Reviewers:
Nancy, Fitz, U.S. EPA, Office of Pesticide Programs
Richard Pont, U.S. EPA, Office of Pesticide Programs
Carol Galloway, U.S. EPA, Office of Enforcement and Compliance Assurance